The choir of St. Peter and St. Paul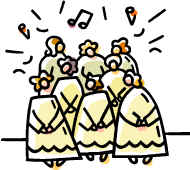 The choir of St. Peter and St Paul began its life in the Rev John Birt's sitting room in 1980. Today some of its original members are still involved. In the early days, the choir only sang on special occasions and festivals in the church. Richard Love became Priest in Charge and he requested a choir at all relevant services. David Barlow took over as choirmaster and thereafter the choir sang , and sings, regularly at Sunday services, weddings, concerts etc.
The choir, which is a four-part harmony group, leads the services at three services a month, and meets for rehearsal on Thursday evenings. For the last two years, members of the choir at All Saints Church, Petham have joined with Upper Hardres at rehearsals and for seasonal/special services in both churches.
The choir practices on Thursday's at 7:30 pm in the church. Members are very committed to the choir but new members are very welcome.